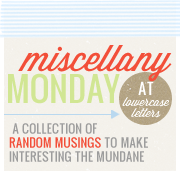 1.
Drivers
I cannot for the life of me stand it when people drive slow. Get out of the fast lane if you are going to drive 70 mph...especially when cars are backing up behind you. I wish irritable bowl syndrome on these people. Get in the car and GO.
2.
Golf
Don't tell my husband, but I have been dying to go golfing! We would go every day if we had the time and financial means to do so. I try to downplay how much I enjoy it or else I will never hear the end of it.
3.
Little Ladies
That's what I call the girls I nanny for, the little ladies! I just love these two and while sometimes it gets stressful (like when they both start screaming their heads off) they can crack me up just by laughing and flashing a toothless grin. And in return I am somehow able to make them laugh every time they barf all over me, they seem to think it is hilarious. I beg to differ.
4.
Target
As you may or may not know, I have a slight obsession with Target. I go ALL.THE.FREAKIN'. TIME. But I have to say, I have been really disappointed with the clearance selections lately. Come on Target, I can only afford things that are at least 50% off!
5.
Say What?
I have been trying to cook more and more, but every time I make something T usually hates it. Last night he had to close at work so I made myself a pizza. Fresh dough, pesto, tomatoes and mozzarella cheese, that's all it was. It was pretty darn good. T had a piece at 1am when he got home. He told me it was the best dish I have ever made. How can that be? It's the easiest and cheapest thing I have ever made! Good to know, we will now be eating lots of pizza.
6.
Vomit
Our lease for our current apartment is up in a few months, so the other day I started researching what our apartments are renting for. I about threw up. Our *huge* 540 sq.ft. apartment is now renting for $1300 a month. Is that a sick joke? $1300 a month for no waster or dryer, only 2 full cabinets in the kitchen, no storage, oh and 540 square feet! It really makes me want to vomit just thinking about it.